Healing with Horses at Joy Rising Ranch in Mt. Shasta provides intimate experience with horses for therapeutic and emotional support. Equine therapy is helpful for anyone who wants to reconnect with self, heal emotional wounds or trauma.  Our founder JoyAn is a life coach with an M.A. in Counseling Psychology who provides therapy or simply enjoyable contact with horses. Healing with horses and equine therapy have proven therapeutic and personal growth benefits, including assistance with autism, post traumatic stress (PTSD), emotional intelligence, relationship wisdom, reducing stress, and so much more.
What is Healing with Horses?
EQUINE ASSISTED SELF EMPOWERMENT (EASE) for all ages is a specialty. JoyAn has owned, trained, and rescued horses for 40 years.
E.A.S.E. HEALING WITH HORSES includes MEDITATE and HARMONIZE IN THE HEART FIELD OF HORSES;  SESSIONS WITH DOC HAPPY, THE HEALING HORSE; and LEARNING AND LAUGHING WITH HORSES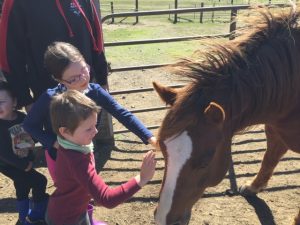 (I no longer give a riding experience)
See contact information and pricing on the contact page
TESTIMONIALS FROM HEALING WITH HORSES CLIENTS
My experience with Doc Happy was amazing. I am new to experiencing horses, and I quickly got over my nervous feeling with Happy's calm, loving demeanor. He licked and nudged some spots I was feeling pain in. Then I felt energy coming from the crown of my head to my heart, where I then had an overwhelming feeling of love, safety, and overall peace. Thank you JoyAn and Happy for this wonderful experience. —Jennifer M.

I didn't have any expectations, just an open heart to meet Happy on September 28, 2020.  There I was sitting in the metal chair and watching Happy walking towards me.  I felt his gentle spirit when I looked into his eyes.  I felt his warmth and kindness when I hugged him.  
Suddenly, Happy started pulling my shirt and my jeans over my belly area.  Happy was very persistent.  As soon as my jeans button was pulled open, I felt the floodgate of the emotional tears pouring down my cheeks.  I knew exactly what Happy was doing.
Happy was pulling out all the left-over wounded energy from my surgery of removing a football sized fibroid tumor as well as my uterus.  Happy showed me just how much negative feelings and energy I was carrying around my belly area 4 years after the surgery.  I was not aware of how much healing I needed from this old wound. Heavy tears erupted from deeply buried emotional issues; it felt like a volcano. I lost all track of time, there was No Time, I was bathing in a healing vortex.
Before the session ended, Happy pulled each of my fingers with his lips.  I have had a lot of pain around my left hand knuckles from the iPhone radiation.  I felt tingling feelings all over my fingers and so much healing energy vibrating through my body. — Jessie L.

We started the session with a centering exercise which helped me to be fully present to receiving a healing. I  was still integrating & processing an intensive workshop experience. She had me sit quietly in a chair & her horse Happy slowly approached me. His gentle presence helped me relax & then a magical healing started to happen! I suddenly felt like he was pulling away from me whatever was left from the training I needed to release. His mouth & jaw started to move in releasing motions, & his legs started twitching & shaking off & grounding whatever needed to be realigned & recalibrated! I walked away from the experience feeling a peaceful wave of Bliss washing over me & very happy! –Sheila Simon, RN, Energetic Healer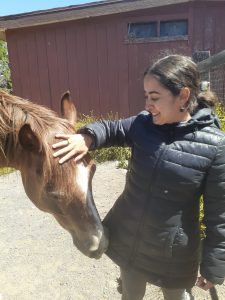 I loved my time at the ranch. I had not been close to horses for the last 25 years, but JoyAn was so helpful and she eased me into it. We meditated with them and groomed them, which helped my fear disappear. The 3 horses are adorable and so loving, I will definitely come back —Maria M.
The deepest and most powerful group I have ever meditated with was with 8 Tibetan Buddhist monks. There was a deep stillness and peace I had never felt before. To my amazement, JoyAn's horse Doc Happy was an even deeper meditation experience for me.  After petting him for awhile, I felt myself going into a very peaceful, still place within me. I felt like his heart was much bigger than mine and capable of loving in unconditional ways that I still had to learn. I felt like he was connected to Earth much stronger than I was. I felt very relaxed, calm, and at peace…I have never had such an experience with a horse before.–John S.
Happy approached me very quietly with exact precision. He came into my personal space as I sat in a chair in the corral. Very systematically he moved his huge head and gorgeous nose around my shoulder, then slowly moved to the left side of my head as if doing a study of the area and a healing. At times he would touch me and sometimes he'd just be close and breathing near me. As some point he was through with his treatment, and it was incredible. I can't wait to have another healing treatment from Happy. –Trudy P.