"I scratched my horses' rumps from top to tail. Their great pleasure gave me joy. I often watched horses pair up and scratch each other simultaneously–neck, back, butt–just being friends. I took a lesson from them, judging not and demanding nothing.
Just being a friend, Beloved Child of God–that is right relationship with yourself, other humans, and all creatures who share the planet with you. You have dominion to demonstrate kindness, compassion, love, not to harm, enslave, or brutalize. You lead the way to enlightenment and teach by example."  ––Excerpt from When I Was a Child: As Given by the Cosmic Christ by Joy-An Tucker
Currently the sanctuary houses seven horses, a barn cat who came with the place, and two other rescued cats. All animals are treated with love and respect and allowed plenty of freedom and choice.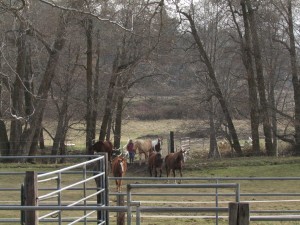 Bringing in the herd in winter.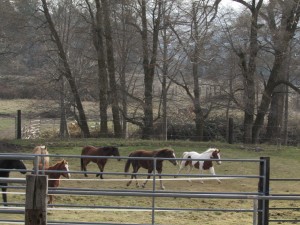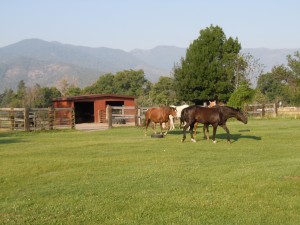 Summer green.