Excerpt from When I Was a Child: As Given by the Cosmic Christ by Joy-An Tucker https://www.createspace.com/5392604
"Ah! Horses ran and leaped and bucked after being turned out of their pens–white, gold, black, brown, copper splashes of light in the green fields. My heart leaped with joy.
Ah! Freedom! Run. leap, buck with joy within yourself, Beloved. You are set free of the pen of your limited perspectives and beliefs. The gate is open. Dash through!"
This book offers a unique perspective on ascension and spirituality: the childlike trust and innocence required to enter the higher dimensions and the heart of Creator. It is an inspirational guide for those newly awakening as well as for those well along on their chosen path.
It is mystical, poetic, humorous, imaginative, childlike and wise at the same time. Wise masters have said the truth is simple. This book is simple truth.
You can read a few pages on Amazon Books or buy it at https://www.createspace.com/5392604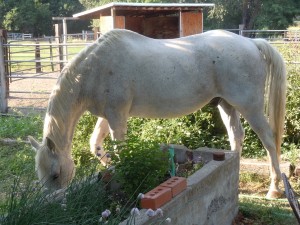 Peace in the garden